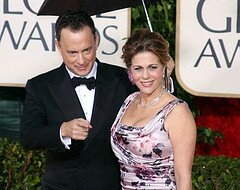 Sometimes Celebrity Couples Work, Sometimes They Don't
It's hard enough for a regular person to end up in a healthy, long lasting relationship; imagine what it would be like if you were under the public eye all the time. That and not having the convenience of taking a relationship slow and easy as you jet off across the globe, doing what you do best; entertaining the world.
Whether you approve or disapprove, we all love watching our favorite celebrities find their way into each other's hearts, even it doesn't last. Following are just a few of celebrity relationships, some that work and some that don't.
Tom Hanks and Rita Wilson
This A list coupled have been married for 25 years and when you see them together, it's obvious they are still very much in love. Rita says that Tom is a sweet and attentive husband that leaves her love notes by the coffee pot or phone (she saves them all). When he's out of town, he sends her photos from his phone of something fun where ever he happens to be.
Rita also said that even though they've been married 25 years it feels more like 2 and a half. Tom Hanks told Piers Morgan recently that every day he spends with Rita is a blast and that when he met her he thought, " this is what it's supposed to be like when you are married to someone; carefree and easy"; not something most couples have. Talk about a great marriage!
Nick Cannon and Mariah Carey
A great example of celebrity couples that makes it work against all odds is Nick Cannon and Mariah Carey, who have been married 5 years (a long time in celebrity years these days). The still infatuated couple, parents of 2 year old twins, has attributed the success of their marriage that keeps it alive to "Lots of sex". The couple also makes it a point to go away on vacation and enjoy quality time together. Over the holidays, the couple enjoys going to Aspen and experiencing a little Winter Wonderland.
Having a huge net worth as a couple probably doesn't hurt their chances either.
Kurt Russell and Goldie Hawn
Kurt and Goldie have been happily "unmarried" for 20 years (together since 1983) and still act like newlyweds, as if no time had past. 67 years young Goldie (who still looks fantastic) and Kurt, 62, still handsome after all of these years are a couple that truly has made it work. Goldie has said that life with Kurt Russell has been an incredible ride and that their relationship works because they want the same things from life.
Pamela Anderson, Baywatch Queen and Bret Michaels, Poison Rocker
Not only was Bret Michaels overshadowed by '90s bombshell girlfriend Pamela Anderson, he would end up being overshadowed by her subsequent boyfriend/husband/ex, Tommy Lee (of the Motley Crue) as well. Before Anderson hooked up with and shot a sex tape with Tommy Lee, she did the same with Bret, who in 1998 managed to block the release of the video.
Nick Lachey And Kim Kardashian
After Nick Lachey's very public divorce from Jessica Simpson, the 98 Degrees singer dated Kim Kardashian and, even though she wasn't as well known at the time, a multitude of cameras. In 2013 Nick, half jokingly/half seriously, said that somehow, inexplicably, when the couple would leave wherever they happened to be, there were at least 30 photographers waiting for them outside. This would get old in any relationship, but it's the kind of attention that the Kardashian's thrive on.
An honorable mention: Nelly and Ashanti — their public break up was very profitable for them both.